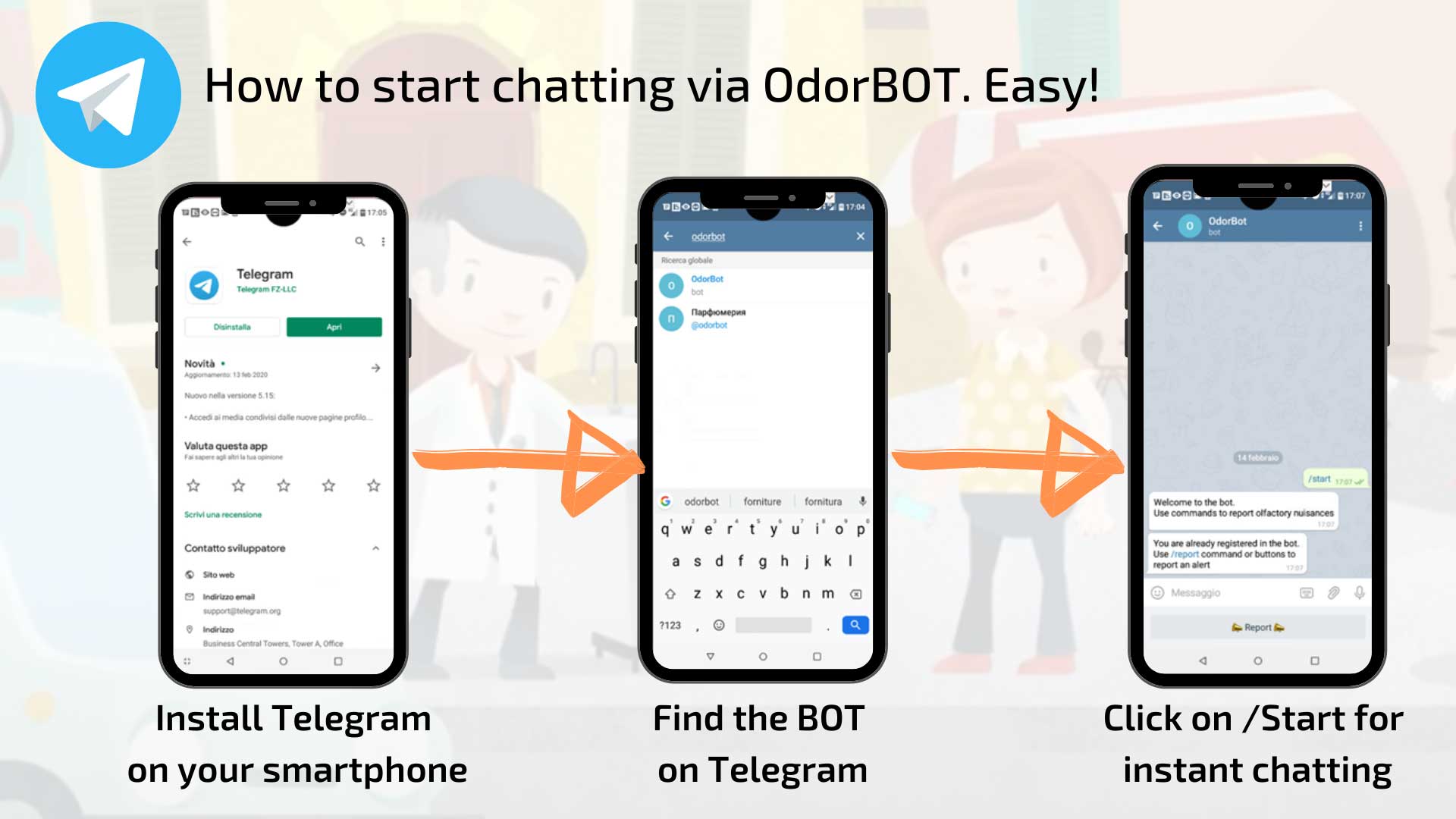 ---
---
What does OdorBOT stand for?
OdorBOT is a virtual chatting solution made for collecting Citizens' reports of odor nuisances that cause olfactory harassments over the time. An operating software with whom anyone can chat on Telegram™: instant messaging app spread worldwide (+200 Mio active users per month) available on Google Play, App Store, Windows Store and any browser. OdorBOT is provided with its dedicated PC and it requires only power supply and internet connection to operate. All the data are acquired and stored on the PC. Data can be displayed on a map for later analysis of the perceived annoyances by Citizens.
Two user access mode are available: the identification code and the nickname for anonymous reporting.
Users with an identification code may have roles and will participate in the calculation of the reporting threshold for the start of sampling.
it's possible to assign roles and relevance of alerts for each user. Reports of users with nicknames will be used for statistical purposes.
OdorBOT is also able to start the on- demand sampling in the event of exceeding a threshold value set by the operator.
Languages:
English
French
German
Italian
Spanish
Why should I use OdorBOT?
Easy to use.
Anonymous or Registered users.
Display of reports on a map.
Option for the OdorPrep activation.
Telegram™ is available on:
Google Play
App Store
Windows Store
OdorBOT is a mini-PC. It needs:
Power supply
Internet connection
Telegram™
Compliance with GDPR 2018
Responsible of all personal data
OdorBOT
Overview of reports
Stores data without any User ID info
Daily files generated in .csv extension
Download Telegram app. from the store
Find the BOT on Telegram
Registration and /Start to chat
Click on «Report»
Intensity of odor
Send the position
End options

Odor event is over
Add notes
First registration
Each user has his own code and weight inside the OdorPrep campaign.
On-demand sampling can start if threshold limit is reached or exceeded.
Reports are anonymous
Statistical purposes