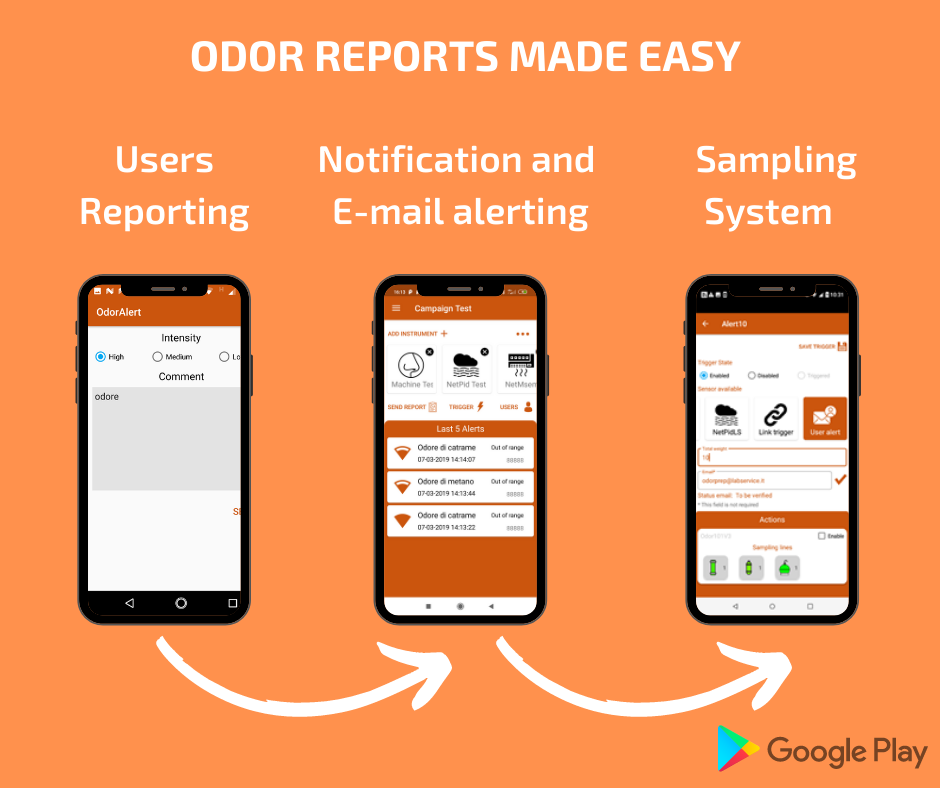 ---
---
OdorAlert is the optional module of the OdorPrep® mobile application that allows the collection and the real-time overview of reports from authorised receptors.
Authorised receptors can send reports by downloading the free OdorAlert mobile application, available on Play Store. Each report contains information about the level of intensity of the perceived odor and any comment by the receptor.
Management of receptors by OdorPrep App
Alerts by Authorized receptors
Real-time overview of the latest alerts
Trigger settings for on-demand sampling

THE PUBLIC OR AUTHORITIES REPORT THE PRESENCE OF AN INCIDENT VIA THE MOBILE APP.

THE REPORT IS COLLECED INTO A PLATFORM THAT VERIFIES ITS RELIABILITY (ORIGIN, USER'S DATA, FREQUENCY OF REPORTS).
THE PLATFORM ALERTS THE SYSTEM MANAGER OR SETS ODORPREP INTO ACTION

EITHER THE MANAGER ACTIVATES THE SAMPLING OF THE AIR OR ODORPREP IS ACTIVATED REMOTELY.
THE AIR IS CAPTURED INTO A BAG. THE SAMPLE OF THE AIR IS LATER COLLECTED BY TECHNICIANS AND BROUGHT TO A SPECIALISED LABORATORY.

THE LABORATORY TECHNICIANS PERFORM CHEMICAL AND / OR DYNAMIC OLFACTOMETRIC ANALYSES.

THE OPERATORS OR THE AUTHORITIES NOW HAVE REAL INFORMATION AND ACTUAL RESULTS FROM THE INCIDENT. THIS WILL HELP IN DEALING WITH ANY CHANGES OR ABATEMENT DECISIONS.